Hero Ectoin 1% + Saffron 1% Super Serum Baby 20ml
Regular price

Sale price

$54.00 USD

Unit price

per
Ingredients
Unlock Bouncy Glass Skin
Pores + Impaired Barrier + Texture
1% Saffron (Crocus sativus extract): Enhances vibrancy for a natural, healthy glow.

1% Ectoin (Tetrahydro-benzodiazepine): Nurtures resilience, supporting a youthful appearance and overall skin health.
1% Sodium Hyaluronate: Your skin's hydration ally, ensuring it stays well-nourished and soft.
2% Lyciu Chinese Extract (Lycium barbarum): Focused on rejuvenation and radiance, infusing a youthful glow.
2% Ginseng Root Extract (Panax ginseng): Promotes vitality and vigor for vibrant skin.
5% Copper Tripeptide (Copper tripeptide-1): Enhances firmness and reduces fine lines for a more youthful complexion.
5% Tremella Mushroom Extract (Tremella fuciformis sporocarp extract): Supports softness, suppleness, and overall skin wellness.
These precise percentages have been thoughtfully selected to create a harmonious synergy among these ingredients, amplifying their individual virtues. The result is a comprehensive skincare experience that not only enhances the appearance of your skin but also improves its overall health and well-being, setting a new standard in skincare excellence.
Pickup Available At Chebo Clinic Flagship Store
chat with clinic to organise a time
Usually ships within 24 hours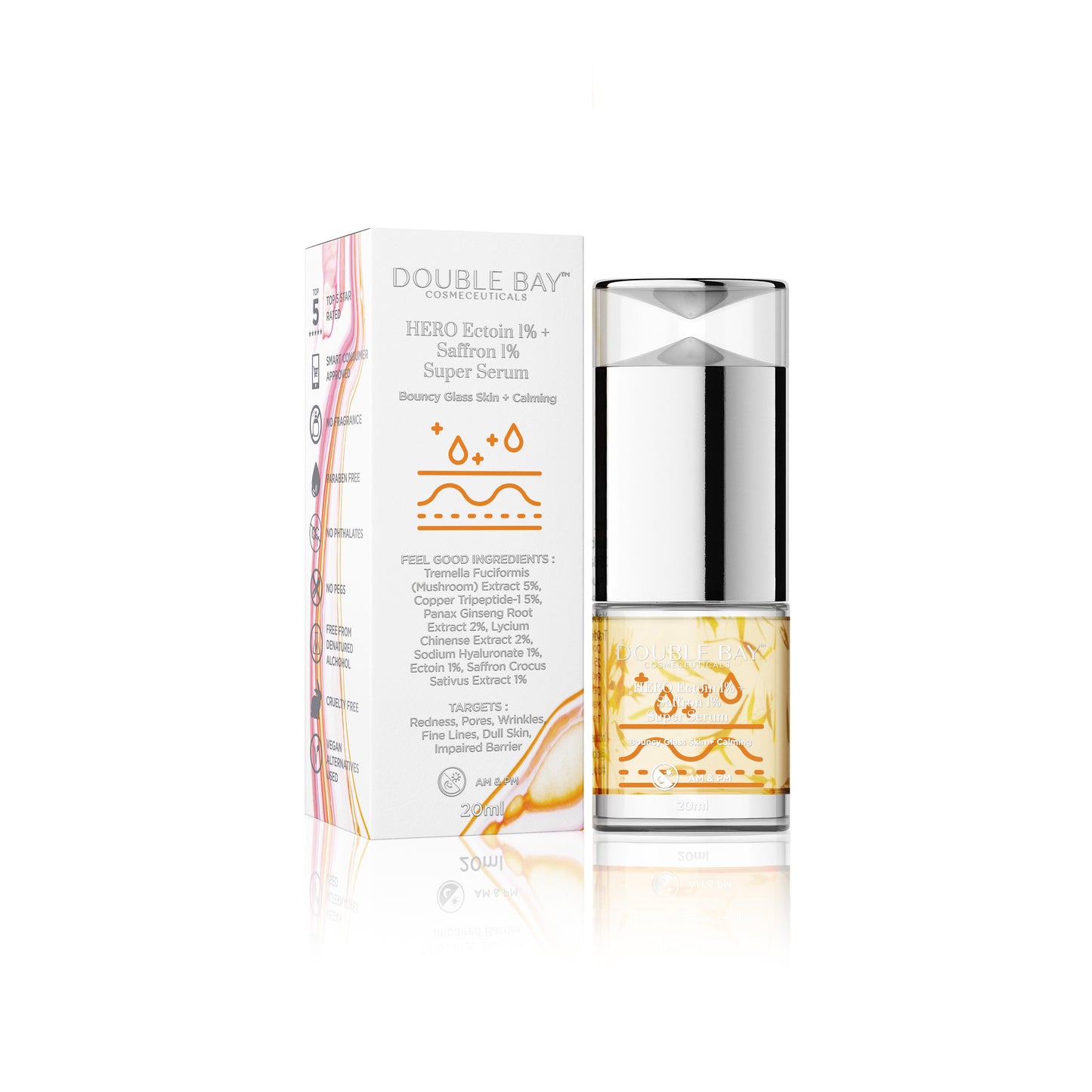 Translation missing: en.accessibility.collapsible_content_title
Key Industry Difference

This serum stands out from the competition due to its unparalleled blend of high-quality ingredients and exceptional absorption properties. With its fast-acting formula, this serum delivers remarkable results, leaving your skin with a luminous and flawless appearance. Experience the transformative power of our Ectoin and Saffron Serum, the epitome of skincare excellence.
Best Way To Use

As morning and night serum
How Long It Lasts/Estimated Rebuy
Is There A Purging Period?
Multipurposing Methods

Can be used on Neck and Chest
Current Codes To Enter at Checkout:
Use Code: 100OFF500 to get $100 off your $500 Order
Use Code: ILOVECHEBO for 10% Off Your Whole Order!